Speedy Picker - Warehouse forklift crane attachment
General Data
Maximum capacity: 65 kg, customized
Lifts/ hour: 100-120
Controls: balancing with autostart
Own weight: 145, depending on the size of the compressor
Media: 24 volt
Crane arm: 2000 mm FlexiCrane jib crane, with lock
Article number: 89-11954
The Speedy Picker is a collaboration between Lifts All and the forklift manufacturer.
Please note that the Speedy Picker is supplied directly to the OEM:s by Lifts All.
Speedy Picker is the perfect lifting tool for material handling in warehouses and distribution centres. The Speedy Picker* consists of a crane arm and a lifting tool that is connected to a compressor. These are installed on the forklift that the operators drive around with during their work day. This way, the lifting tool is always at hand. As the operator does not have to manually lift the loads anymore, the risk for injury is minimised. With the Speedy Picker, work can be carried out faster, easier and safer.
Ergonomic lifting tools for warehouses and distribution centres
The lifting tool starts automatically when placed firmly on the product to be lifted. The operator can then lift and manoeuvre the product effortlessly. This lifting tool has been ergonomically designed for both left and right-handed operators, and only has one button-controlled function, which is used to release the load when it has been placed in its off-loading position. Its unique tilting function allows the operator the versatility of moving between picking up loads from its top or side. This makes it easy to unload products from the top of a high stack by lifting it from its side, work in confined spaces and in low-built areas.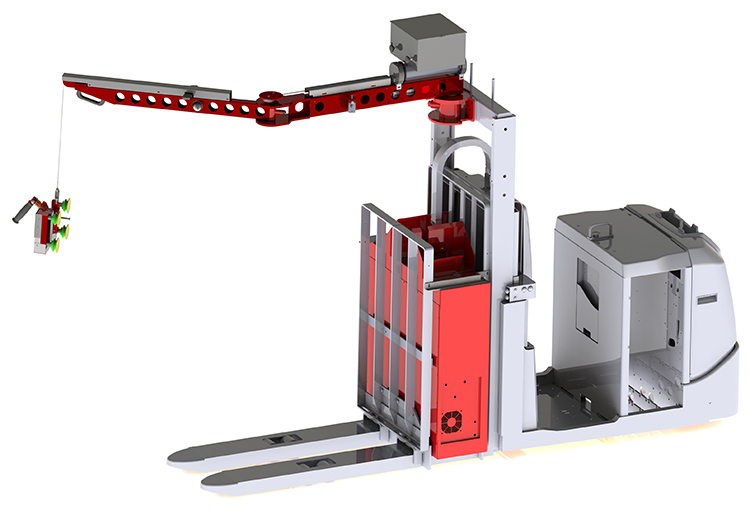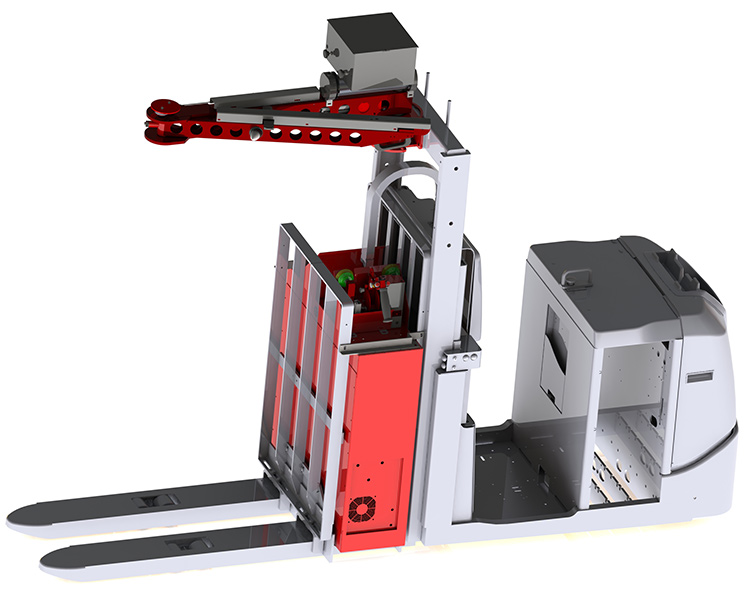 Speedy Picker with open crane and Speedy Picker with parked crane
Flexible forklift crane arm
The agile and flexible crane arm means quicker pick-ups from both sides and behind the forklift truck. The load is balanced by the lifting tool and can be raised and lowered by the operator without any buttons. When the operator is done, the lifting tool is simply placed back into one of the docking stations and the crane arm is locked into "parking mode". The operator can then drive safely to the next spot.
Adaptable crane arm for most warehouse trucks
The Speedy Picker crane arm can be installed on most types of warehouse forklift trucks. In collaboration with forklift manufacturers, we develop a solution that best suits their specific type of truck. Depending on the products to be lifted, the lifting tool can also be switched to, for example, a hook or a mechanical gripper.
*Patent pending.
Read more